When all together, the Okitama region is even more interesting.
The long-awaited Oguni Town joins the Arcadia region
Creating a community where agriculture, commerce, and industry are linked
(ISH) Yamagata Arcadia Tourism Bureau (Special Division Subcommittee, Member)
Takuma Watanabe
Oguni Town joined the Yamagata Arcadia Tourism Bureau (hereinafter referred to as the Arcadia Tourism Bureau) in April of 2021. Takuma Watanabe, who joined the Special Division Subcommittee, is the representative director of Agricultural Producers' Cooperative Corporation Oguni Kintake Workshop which specializes in mushroom production, processing, sales, and fungal bed manufacturing. He also instructs a wide variety of producers on mushroom production. He believes the characteristics of the town, the connections with people, the hard work the people are doing will spread to the entire area of Okitama.
ーHow do you view the joining of Oguni Town?
I'm glad I can finally participate. I thought that if we brushed up our thoughts and joined efforts with the Arcadia Tourism Bureau, we would definitely get things moving at once.
I became a member of the special division subcommittee after speaking with the city hall about an idea me and entrepreneurs in the town had before COVID about inbound tourism.
I have a plan to start an all-you-can-pick mushroom event where you barbeque the mushrooms you pick and go to the roadside station to buy beef sausage as a souvenir. A tour of the workshop or compact hour-long plan will also be possible depending on what the participant chooses. We are working on increasing the number of plans to choose from.
This fall Oguni Multi-work Business Cooperative will boot up, and with that are planning to have a simple tour starting from three days to up to a month long. You will be able to experience Oguni Town's many agricultural and industrial work. I am currently working on creating the system for the hires' yearly income and employee welfare. This won't only affect Oguni, but will hopefully spread out over all the Okitama region.
ーWhat do you expect from the Arcadia Tourism Bureau?
There are people that specialize in many different lines of work in the Tourism Bureau. I really want to know how those people feel about Oguni Town. The more they tell me about the downsides to Oguni Town, the more opportunity I have in making it better. I am looking forward to the exchange of information. The Arcadia area is currently 2 cities and 3 towns, but if all the special 3 cities, 5 towns and 8 districts come together, it should be possible to do more and more interesting things. For example, in Oguni Town, we have been cultivating abalone for two years. They grow by eating the shiitake mushrooms. They also eat strawberries and tomatoes from Oguni. Wouldn't it be amazing having eight delicious types of abalone grown in the different regions of Okitama using that regions' local foods?
PROFILE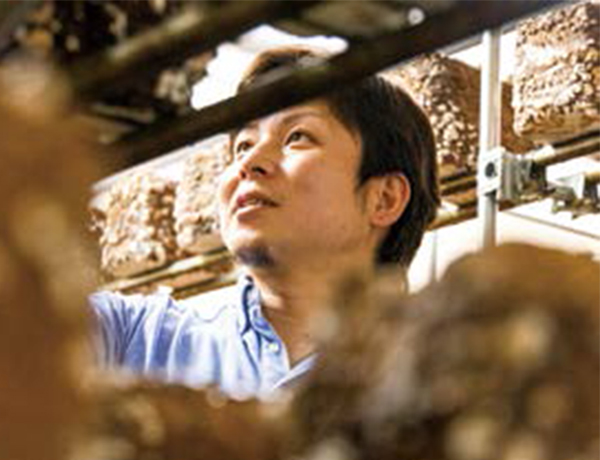 Takuma Watanabe
Born in Oguni Town. He is the representative director of Agricultural Producers' Cooperative Corporation Oguni Kintake Workshop. He holds positions such as the Chamber of Commerce and the Youth Department of Agricultural Cooperatives, creating a flow in which the same generation is connected and cooperates. His knowledge, passion and affection for mushrooms is extraordinary, and he is particular about the chips that make up the mushroom bed.