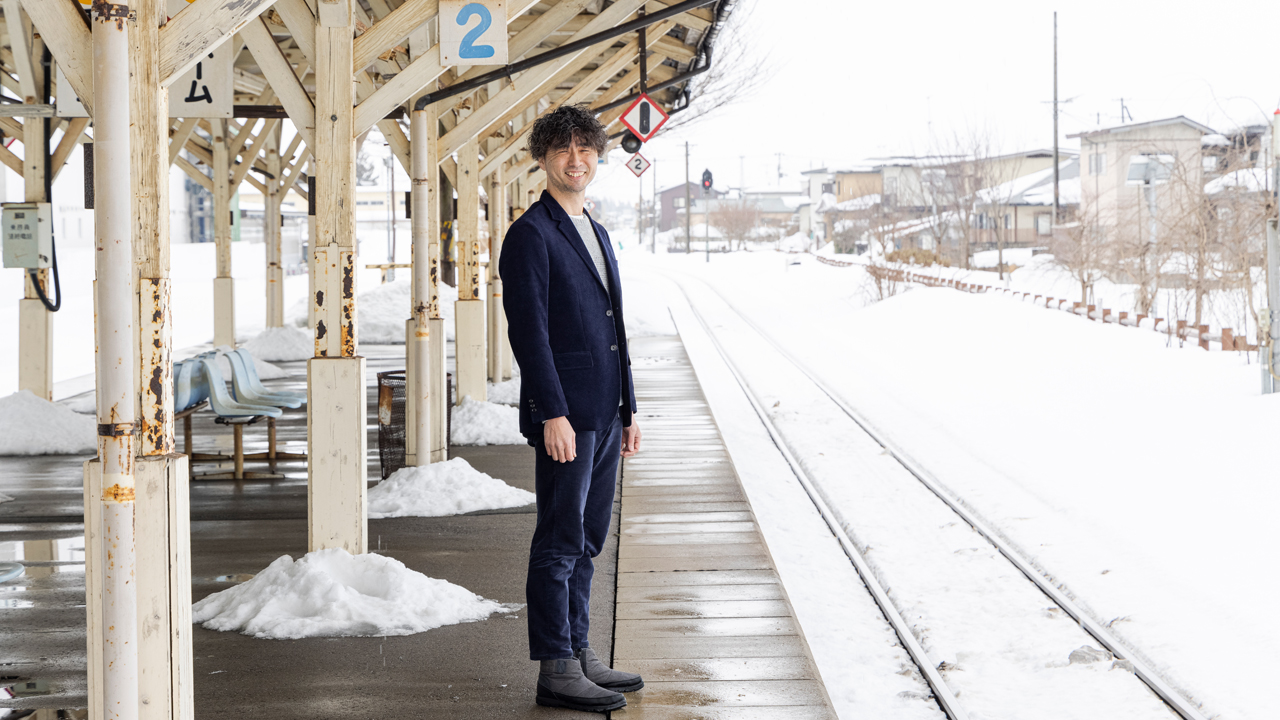 Connections with people expands the appeal of the city
Creating an inherently fun atmosphere and place
How to interact with people differently than in metropolitan areas
(ISH) Yamagata Arcadia Tourism Bureau (Chairperson, Strategic Council)
Takao Yokoyama
Takao Yokoyama runs a flower shop on the street in front of the station (hereinafter Ekimae-dori) in Nagai City and is also the company director of "Our Rakumachi", which is engaged in the town development business. Since June 2020, he has been a director of the Yamagata Arcadia Tourism Bureau (hereinafter referred to as the Arcadia Tourism Bureau) and a member of the Strategic Council.
ーHow did you join the Arcadia Tourism Bureau?
In October 2019, I was appointed chairman of the Nagai Central Shopping Street Promotion Association on Ekimae-dori. Immediately after that, there was talk at the Arcadia Tourism Bureau that they wanted to add one member each from Nagai, Nanyo, Shirataka, and Iide. I was soon approached. It seems Nagai City asked for someone who is familiar with the commerce in the shopping district area to be added. I am a director and new member of the Strategic Council.
ーWhat are your current activities?
I participate in strategic meetings, listen to activity reports, and give opinions. There are nine teams, such as the souvenir development team and activity planning team that show off the characteristics of the area. Each movement is very active. We discuss the planning process and direction of the team once or twice a month. Most of them are in their early to mid-generations, and from my perspective as someone in my generation, their way of thinking is quite flexible. Their perspective of how to make the town they were born and raised in more attractive is very new. The plans brought up by the members clearly show characteristics of the region they grew up in. Even though we are all from the same Okitama region, I think it's interesting that each town and city has their differences.
ーIs there anything you notice from the standpoint of running a flower shop in the city?
First of all, I happened to be born in Nagai City. I am the successor and eldest son of a flower shop. I am glad I was born here. Flowers are significant to us during major times of our lives and convey feelings. I am happy to have a job where I can directly interact with customers and please someone with the products I have created.
It has been a year since we took over the business, and it has become a store that meets the needs and wishes of our customers. Although we don't carry many flowers, it is a shop where we connect with people. We are able to choose the correct flowers for the customers from just seeing them with how frequent they visit. We have a flower school and provide opportunities to enjoy flowers. The Flower School is held by my wife, and the number of participants, which was initially 7 or 8, has increased to more than 120 over the years. The number of students increased, with current students saying, "I want to bring a friend, because of how much fun I'm having." In the same manner, if the Okitama region shares its appeal with the world, there will be people who will notice it, come to experience it, connect with it, and then the number of immigrants will increase. I believe it is the role of the Arcadia Tourism Board to have that outlook.
PROFILE
Takao Yokoyama
Born in Nagai City. The third generation of Musumeya Hanaten on Nagai Ekimae-dori. He is a founding member of Our Rakumachi, and aims to create a town where the residents hold the motto, "We can make our town better!"