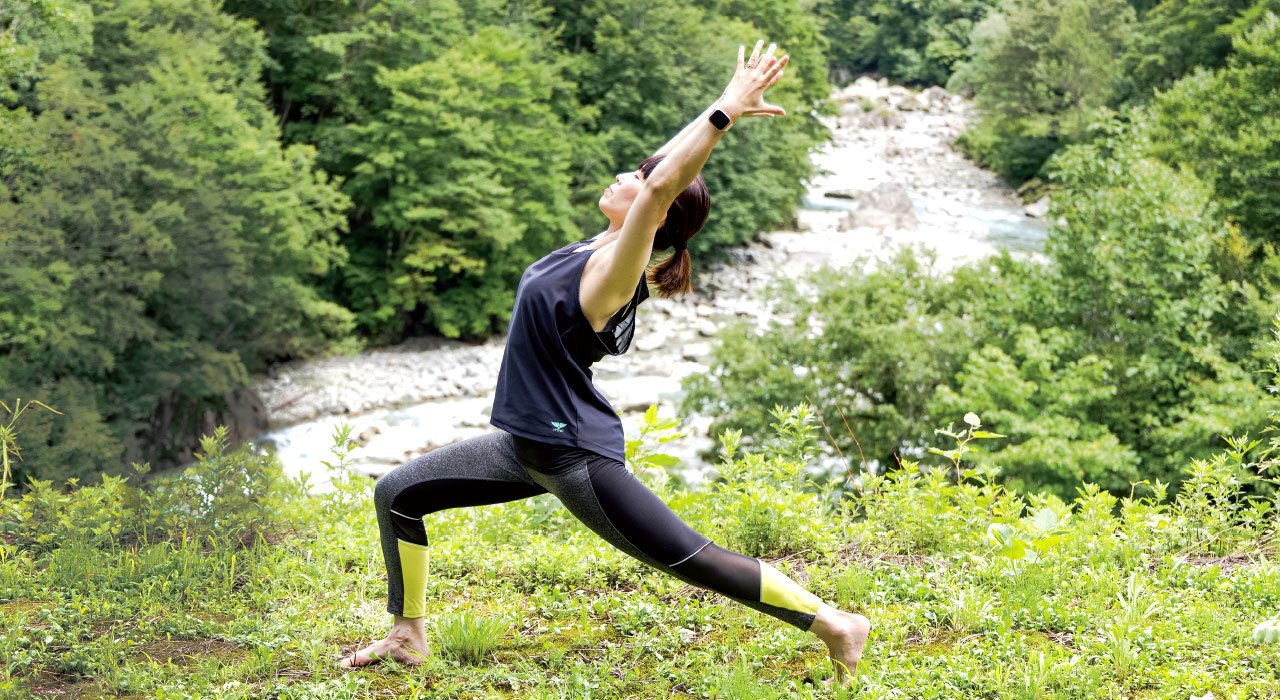 Enjoy nature and fill your life with healing and vitality
Forests, rivers and overflowing nature are the attractions of Oguni Town
Adults truly enjoying themselves create the future
(ISH) Yamagata Arcadia Tourism Bureau (Chairperson, Strategic Council)
Sayuri Murakami
Sayuri Murakami is in charge of sales planning at Oguni Shiroimori Co., Ltd., which handles tourism and facility management in Oguni Town. She is an internationally qualified yoga instructor and teaches forest yoga in the Tourism Bureau's travel package, Beech Forest Retreat Tour.
She retired from a major sporting goods manufacturer in her 20s. After traveling to Canada alone, she studied a ski program at a sports business vocational school. We asked Murakami, who was a local activity guide, about the charm of Oguni Town and her current activities.
ーWhat made you move from Canada to Oguni Town?
The Great East Japan Earthquake was one of the triggers. When I thought about returning to Japan, I thought it would be nice to go to Oguni, the birthplace of her husband. It's a better environment for raising children than in the city, and above all, there's a ski resort five minutes away by car. In winter, I manage the operation of the town-run Yokone ski resort, but if I have 30 minutes, I go skiing (laughs). I can mountain bike and SUP. My lifestyle hasn't changed much since I was in Canada.
ーHow rewarding is yoga instruction?
As long as the townspeople are doing well, I am okay. I lived in a town for athletes in Canada, so I did tough yoga. It was a complete failure when I tried to replicate it in Oguni Town. I realized that I needed to create a class that would benefit students who didn't exercise often, so I got certified as a kaigoyoboundoshido, Care preventive exercise instructor, and senior yoga instructor. Even if you come to the classroom for an hour and just talk instead of your exercise, that's fine. I value how fun it is.
ーYou are doing wonder projects such as forest yoga that take advantage of the charm of Oguni Town. How is the reaction?
The other day, three people participated, and each one applied separately. I thought how amazing it was for people who didn't know each other at all to meet and make friends here. It takes courage to go at things alone, and I think it can be nerve-wracking, so we try to get rid of that barrier and show that "everyone is welcome!" Also, I hope more people in the town participate in forest yoga. Maybe it's because they are used to the mountains, rivers, and whatnot, but it's a pity that few adults take advantage of the class.
We are also thinking of projects for winter. Oguni Town has just joined the Arcadia Tourism Bureau and is still trying to find their bearings, but I would like to do more and more to help with the Tourism Bureau. I want to treasure displaying how much fun we are having, so that strangers don't look back thinking, "what are they doing?"
PROFILE
Sayuri Murakami
Born in Takasaki City, Gunma Prefecture. She is the chief of the Sales Planning Division of Oguni Shiromori Co., Ltd. National Yoga Alliance (RYT200), yoga instructor. Care preventive exercise instructor. Chairman of Kids Dance Class PEAK. She also participates in the Yamagata Arcadia Tourism Bureau Strategy Council.