Sake creates bonds; making it brings harmony.
Intertwined fate brings a new future.
Shrines of the Okitama region, Japanese sake, and art come together for the OMIKI Project.
Iide Town's Wakanoi Brewery and live painter DRAGON76 share their heart over Japanese sake, and create a bottle that resonates between them.
They share the story of sake made from the bond and harmony of people, and of the future.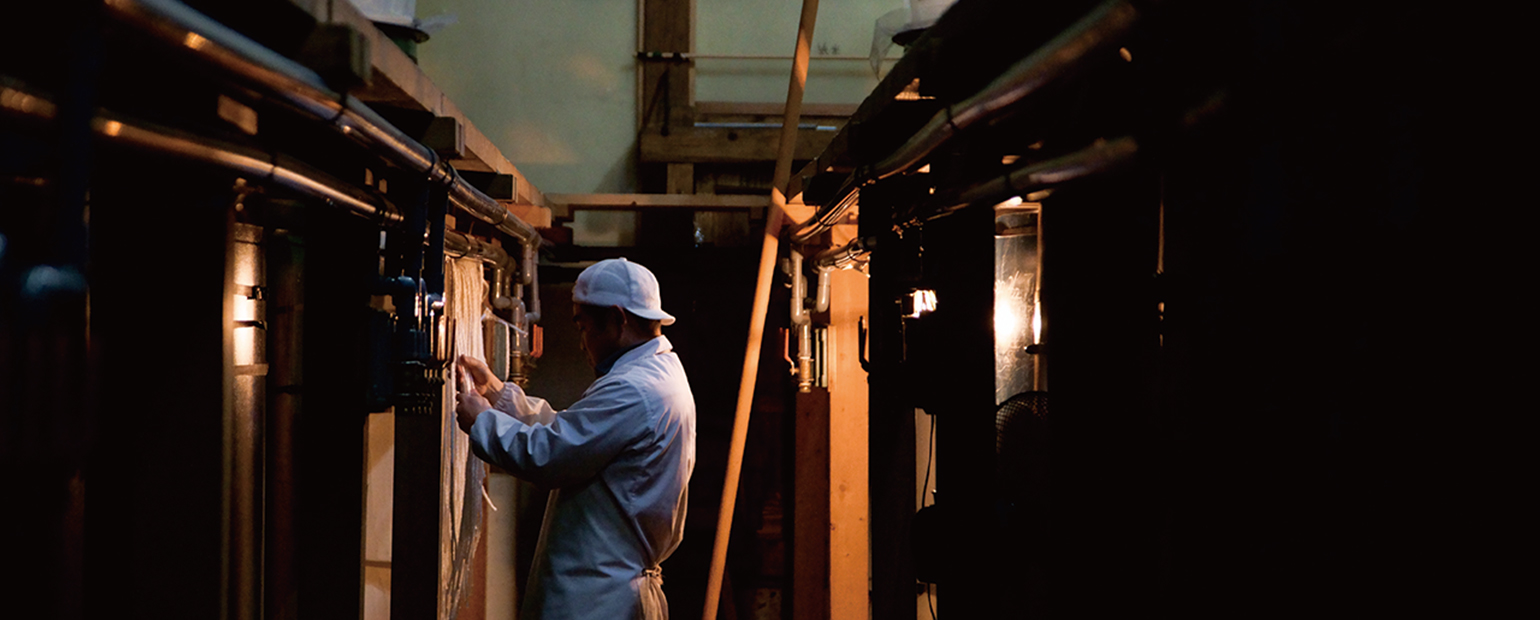 Water is the Essence of Brewing Sake
The Flowing of Copious Blessings of Nature
Wakanoi Brewery was founded in 1890 in Iide Town. A short walk from that brewery is a small shrine. "This shrine enshrines the well where Wakanoi Brewery was drawing water from. Now we use a different well drilled close by. If you drill down 10 meters copious amounts of water flows out. We found a good underground stream, don't you think?" said the chief brewer Onuma Hidekazu. This area lies downstream from a river that runs next to Wakamiya Hachimangu shrine. This shrine harbors a local Shinto god of protection. Ancestors started making sake here when they dug a well and fresh water splurged out. They had tried digging a well three times, but never hit an underground stream. Not until they found this area blessed by the Iide mountains.
The sake made from the clear mountain stream is smooth and doesn't leave an aftertaste. "It's difficult to label our sake as sweet or dry sake," laughs Mr. Onuma." "The past chief brewer demanded it be 'pressed either sweet or dry,' but since I'm now the chief brewer I don't think it has to be a dry sake. The water we use cuts flavor well, so we purposefully press it as a sweet sake. Even though it is sweet, the flavor doesn't linger. It's possible to make sweet sake that you don't get tired of drinking."
Mr. Onuma knew nothing about sake brewing when he stepped into a brewery 20 years ago. At that time, the sake making was entrusted to a brewer from Sannai, Akita. He ended up retiring due to old age, so there was no brewer lined up to take over. Then Wakanoi Brewery entered a period of change. Mr. Onuma, who had been only helping with the brewery, became the next chief brewer. He used what he learned from the past chief to start making sake. This year is his 7th year.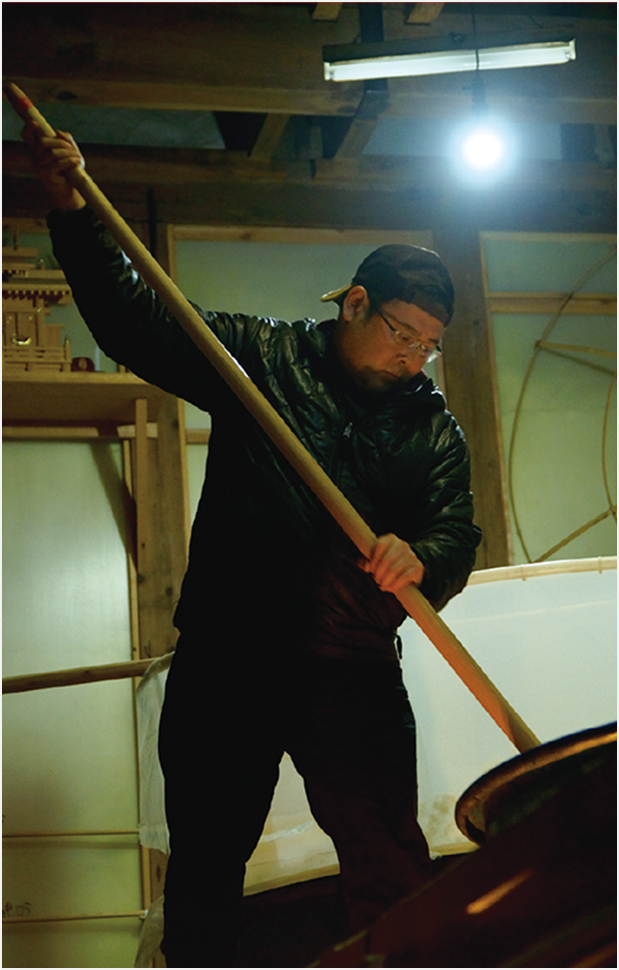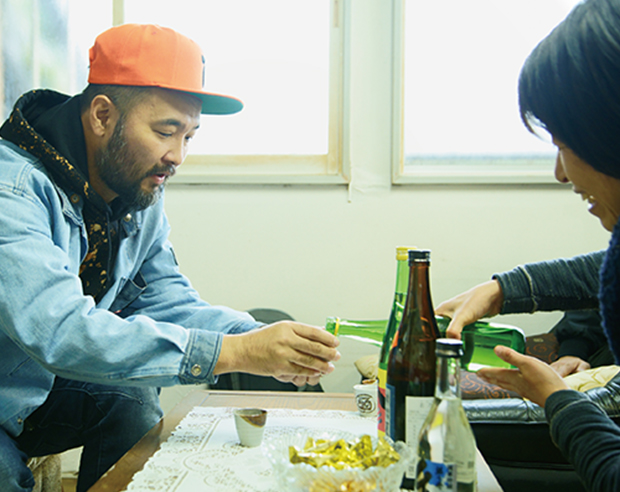 Sake connects People
"Without a chief brewer there is no sake, but I feel, more than that, without the help of workers at the brewery, farmers, and staff members coming together you can't make sake. I believe that I can live this life because I treasured the bonds I made through sake. Sake making is harmony, you know?" spoke Mr. Onuma. His expectations have expanded to the 'OMIKI Project'. "We are the ground keepers for Wakamiya Hachimangu shrine, so twice a year at festivals we bring sake to the shrine office. I never thought we'd be making sake that's been prayed over. Sake making and the local Shinto deity were so normal to me I never connected the two. That's your interesting story." The brewery that almost came to an end, revitalized by the local water source, started making sake full of prayers. Now as if in response to that, the artist's aesthetic sense will bring a new air.
A Dragon Flies to Iide Town and New York
"It's got to be a dragon. A dragon god of water," DRAGON76 whispered as he finished his observation of the sake brewery and hearing of the relation between Wakanoi Brewery's sake and the local water. The unique atmosphere of sake making and the delicate work that goes into making sake touched his creative side in some way. When questioned about his thoughts on making 'dragon,' his own namesake, the motif, he said he felt the permanence of the past and future as well as the connection between humans and nature in traditional sake making, and how it resonated with him and his theme of 'coexistence.'
The chief brewer and artist shared their opinions on sake, people, and the popularity of sake overseas while sipping on 'Wakanoi Tokubetsu Jumaishu': spring namazake, summer namachozo, fall akiagari, and winter yukimuro chozo. "In New York, while lined up for a popular ramen shop, there is a small bar you can drink Japanese sake at, but nowadays the bar is more crowded. Everyone loves sake!" As DRAGON76 was telling of the situation, Mr. Onuma elaborated about an idea of putting sake into kegs to maintain the quality, and shipping that. Then he can offer more delicious sake to sake connoisseurs overseas. "When it comes to introducing sake's appeal overseas, we have a group called the Gokurakai, so I'll talk with them about it, but I want to try it myself. I want to give it my all, and not do a haphazard job," says Mr. Onuma. They started excitedly exchanging ideas for promoting their product in New York, such as a live painting session of the dragon on the label.
(Photo: The two reunite in NY)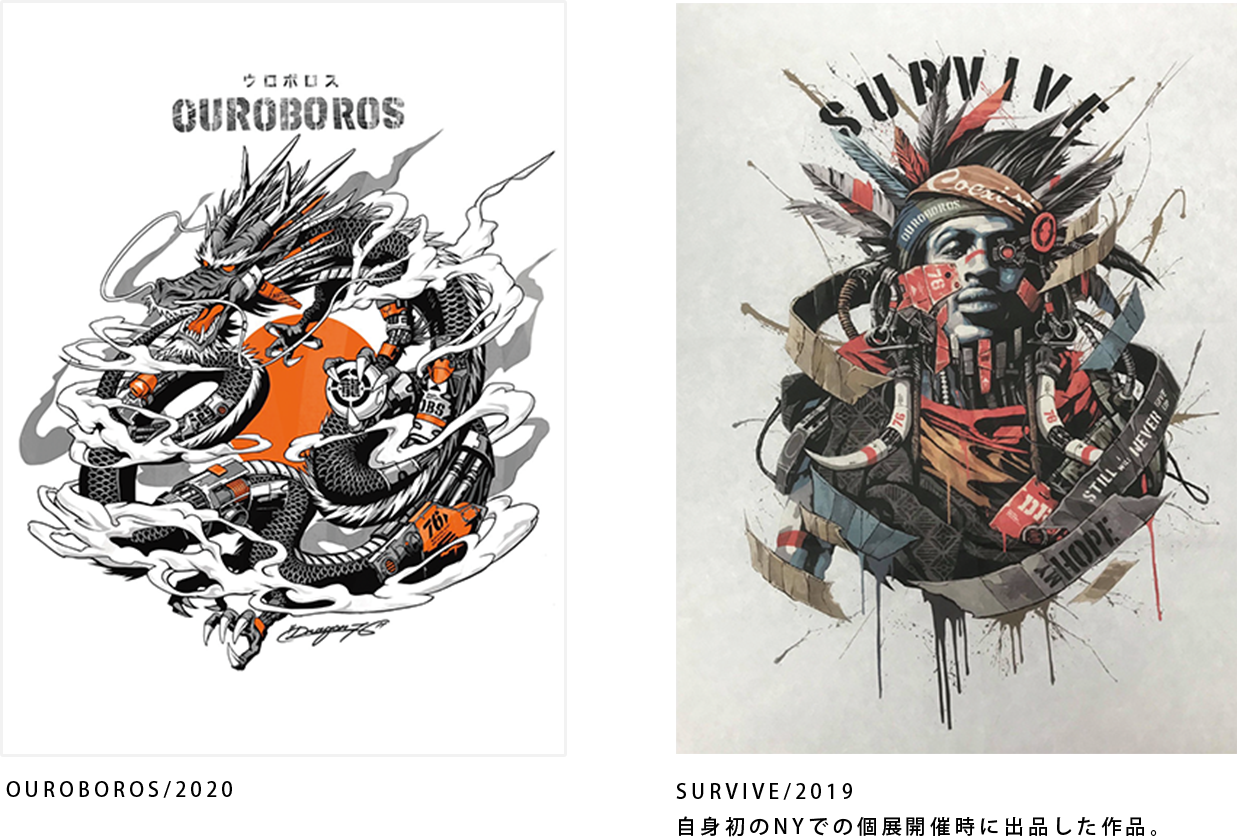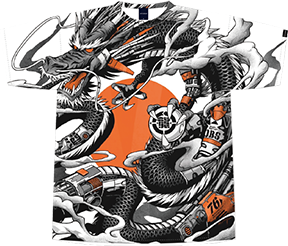 APPLEBUM×DRAGOM76
×OMIKI
"OUROBOROS"
All T-shirt
A t-shirt with an OUROBOROS printed boldly on the front to leave a strong impression. On the back, there is an explanation of the OUROBOROS, DRAGON76's signature, and APPLEBUM's logo.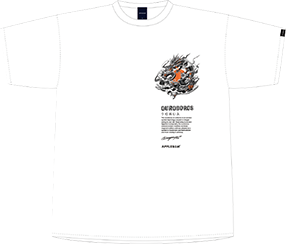 APPLEBUM×DRAGOM76
×OMIKI
"OUROBOROS"
T-shirt
The same strong imagery of the OUROBOROS is printed on the chest. The explanation of the OUROBOROS, DRAGON76's signature, and APPLEBUM's logo is printed underneath the graphic.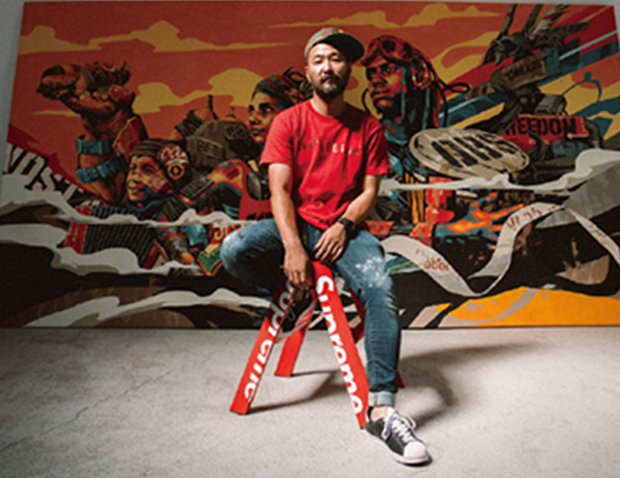 Born in 1976 in Suga Shiga prefecture.
Based on street art, DRAGON76's artwork is passionate and energetic. His art 'touches the soul' of those who see it. His style is constantly evolving. The concept of his art style is "the coexistence" of two opposites such as past and future, stillness and motion, evil and justice.
In 2016, his family, wife and children, moved to NY where his art and style continue to progress.
In 2017, he won ART BATTLE in NY two times, and in 2018 he won the national championships.
He assisted with completing official visuals and murals in movies such as 'Pacific Rim: Uprising (2018)' and 'Terminator: Dark Fate (2019)'.
In 2019 for the Amazon Prime Video TV series 'The Boys', he painted a mural at ComplexCon in Chicago.
In June of 2019, he opened his first solo exhibition "coexist" at The Compound in The Bronx.
At the opening party, he gathered around 400 guests and became a topic of the show.
【official web site】
https://www.dragon76art.com
About the OMIKI Project
At the Yamagata Arcadia Tourism Bureau, as part of the Toyo Arcadia Project for developing omiyage (souvenirs) for the Yamagata area, we aim to promote the local area to the world through the uniquely Japanese culture, sake. Local breweries and world acknowledged graphic artists pair together to pray for the success of sake making, and develop original Japanese sake. We promote the "OMIKI Project" by selling omiyage. The project is to sell, develop, and promote "OMIKI" as high-brand "SAKE" to the world.
*OMIKI is sacred sake offered to the gods.