Kindness and Gratitude Heart to Return Favors
The Origins of Tsuru no Ongaeshi
According to Soto Zen Rinnō-ji Buddhist Temple on Mt. Kongo, which has a deep connection with the Date clan and Kyokudōsō Zanoshō, Kakufuzanchinzō Temple in Urushiyama, Nanyō City is an ancient temple that was founded in 1460 (Kanshō 1). It is a temple that generations of the feudal lord of the Uesugi family have visited and heartily welcomed. A story similar to Tsuru no Ongaeshi called Kaisan Engi has been passed down as the telling of the founding of the temple in Obata Chūmei's book on place names, Kakujo Chimei Sen. Summaries of the Yonezawa Domain, fortresses, temples and shrines, and ruins are also recorded in this book.
The main difference that story had with the old tale is that the main character, Kinzo, did not see the crane weaving. Kinzo left to become a monk after his wife disappeared leaving behind woven fabric. The crane's wool became a temple treasure because of its rarity. It is written that Kinzo-ji temple, named after Kinzo, eventually started being called Chinzo-ji temple. According to the vice-chief priest, the treasured woven fabric no longer exists. The current main hall was built in 1807 (Bunka 4) and it is a possibility the item was lost in a fire before then. As stated in Kaisan Engi, there used to be a small temple there, and there are suspicions it was Kyokudōsō Zanoshō who founded it. Stories like Tsuru no Ongaeshi exist scattered all over the country in Aomori, Niigata, Okayama, Kagoshima, etc, but Chinzo-ji Temple's story of Kaisan Engi is the oldest recorded.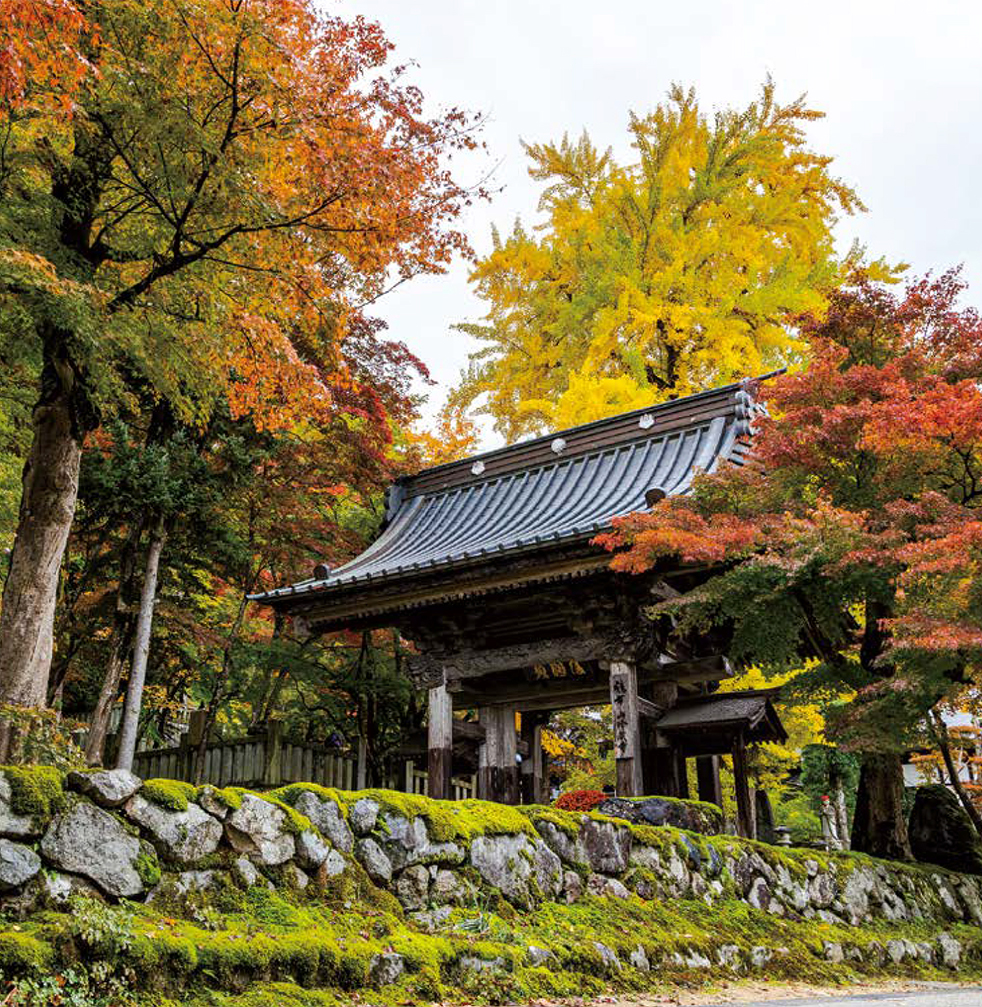 A Story Tied to the Land
One of the reasons Nanyo City is considered the place of origin to Tsuru no Ongaeshi is because of the area names related to cranes(tsuru) such as Tsurumakita, Orihata river, and Hanetuki among others. It is also said that this area used to be a wetland for cranes to migrate to. In the Uesugi Family's chronological records, in October of 1625 (Kan'ei 2) a pair of cranes were presented to the shogunate. Tsuru no Ongaeshi was made as audiovisual educational material for children, and in 1984 Masato Kato, who won the Minister of Education Award at the National Audiovisual Materials Contest said, "Surprisingly, the citizens do not know that the birthplace [of Tsuru no Ongaeshi] is Nan'yo City, so I made it with the hope that it could be seen as widely as possible. Even now, I don't feel that the wishes and feelings contained in the work are old. Compassion, appreciation, and wonderful feelings of gratitude haven't changed. I want to pass that on to future generations."
The work is composed of beautiful illustrations of Chinzo-ji Temple in peace with nature and Nan'yo City's landscape by Nasuno Hiroshi, while focusing on solving the mystery of the story. Moreover, the warm and soft speaking voice of Sato Shuemon weave together scenery that permeates the heart.
I would like to introduce the beginning of the story.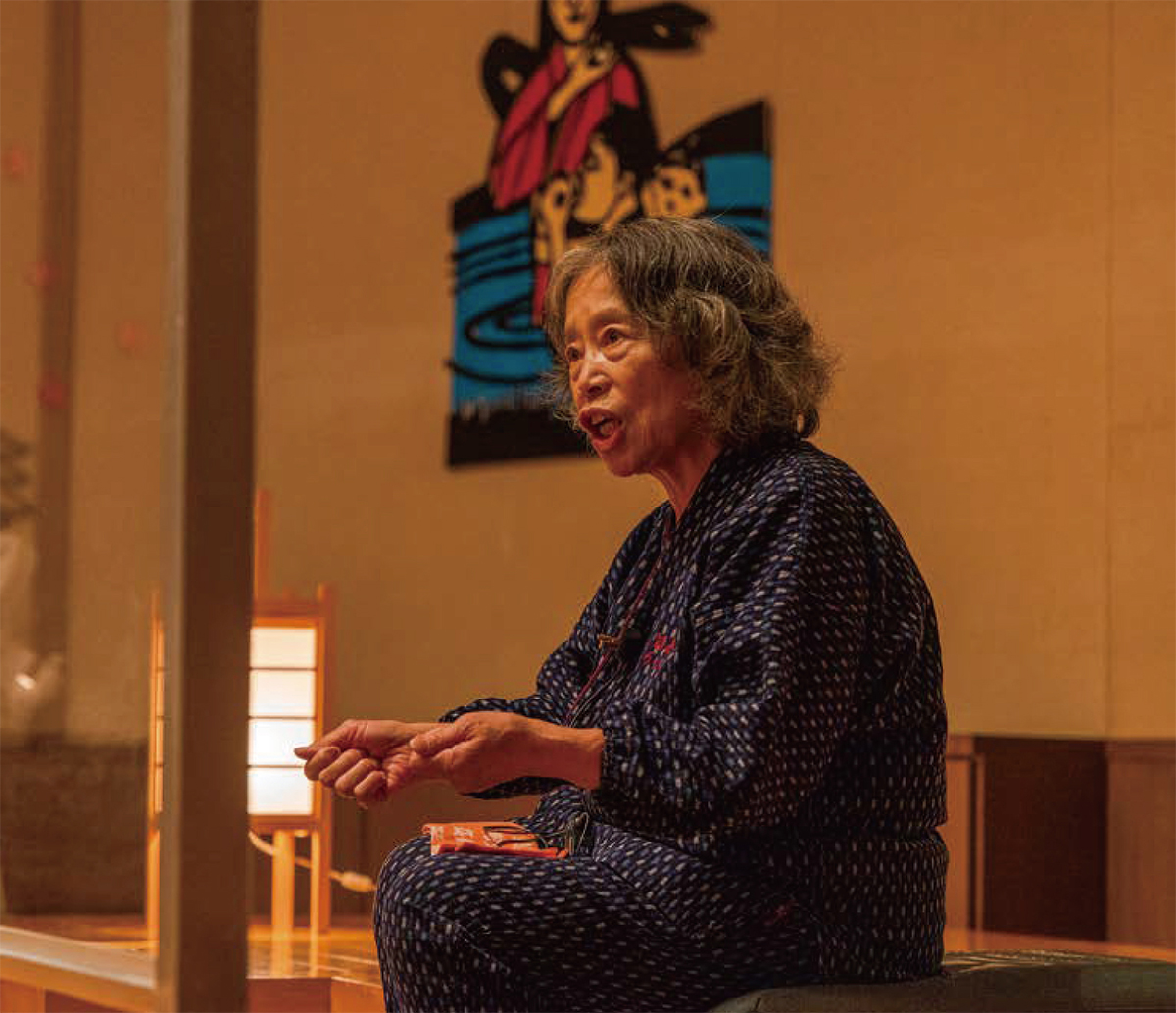 A long, long time ago in a land called Ni-yama close to Orihata river an honest working man by the name Kinzo lived. One day he was headed back to the neighboring town of Miyauchi. On a road by rice fields in front of Bessho naughty children were tormenting a big crane with its legs roped together. Kinzo pitied the crane and handed over money to free it. The crane thanked the man, bowed its head several times, and circled over head before flying off towards Tsurumakita.
※It's told in the local's dialect.
Passing on Overflowing Emotions using Local Dialect
Usually in old tales, sayings like "A long, long time ago in a land far, far away," are used to depict unspecified times, places, and people, but in Nan'yo City's Tsuru no Ongaeshi actual names of places are used. Considering that the only place names that appear in "Kakujo Chimei Sen" are Urushiyama, and Miyauchi, it can be said that the elements of reality were added through oral tradition. Nan'yo City has been a place of silk farming since after the era of the Yonezawa Domain. Silk throwing became this area's industry in the Meiji period. It has a history of flourishing in overseas trading. People who weaved silk thread in the Edo period living in a migration area for cranes, probably told this story with more familiarity than we do now.
At the cultural facility "Yuzuru no Sato," there is a Yuzuru no Sato Museum that uses an old building of a paper mill. There are items from the play Yuzuru, silk worms, woven thread, fabric, beliefs, and modern yard displayed. And then in the "Storyteller's Room," orally passed down tales are continued to be passed down using the local people's dialect.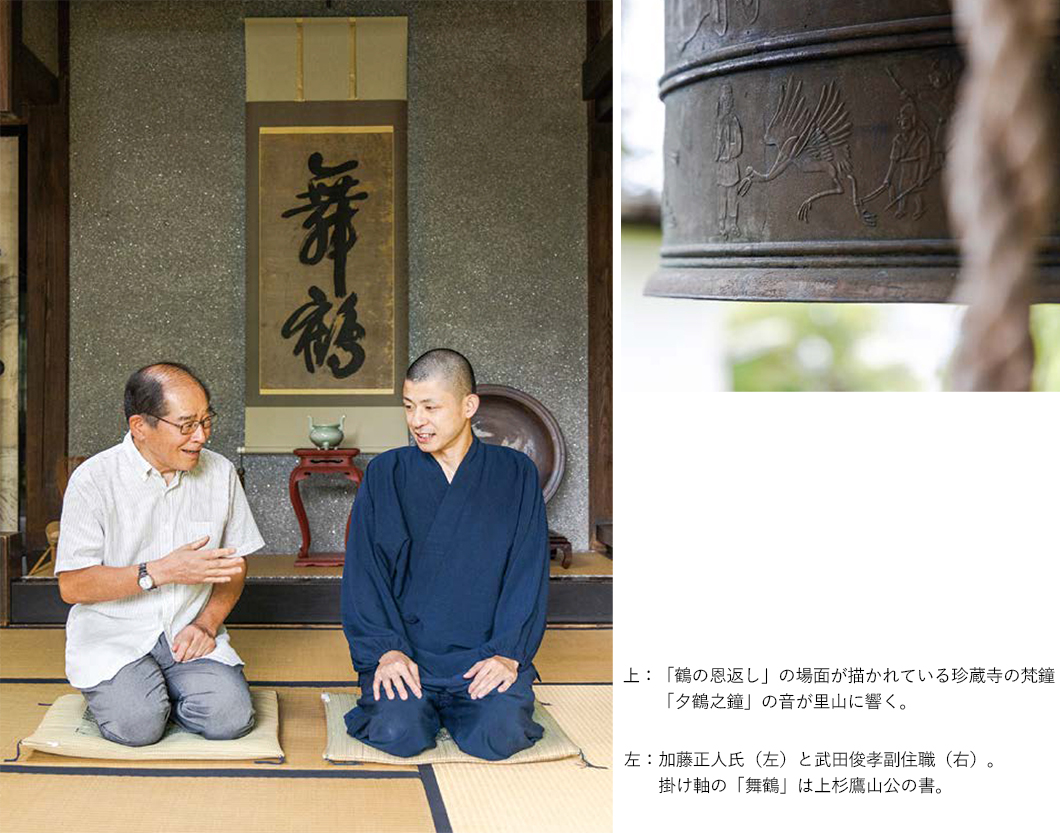 INFORMATION & MAP
Yuzuru no Sato

〒992-0474 Yamagata Prefecture, Nan'yo City, Urushiyama, 2025-2
TEL:0238-47-5800
Business hours/9:00~16:30
Closed/Mondays (Open on national holidays)
Chinzo-ji Temple

〒992-0474 Yamagata Prefecture, Nan'yo City, Urushiyama,1747-1
TEL:0238-47-2264