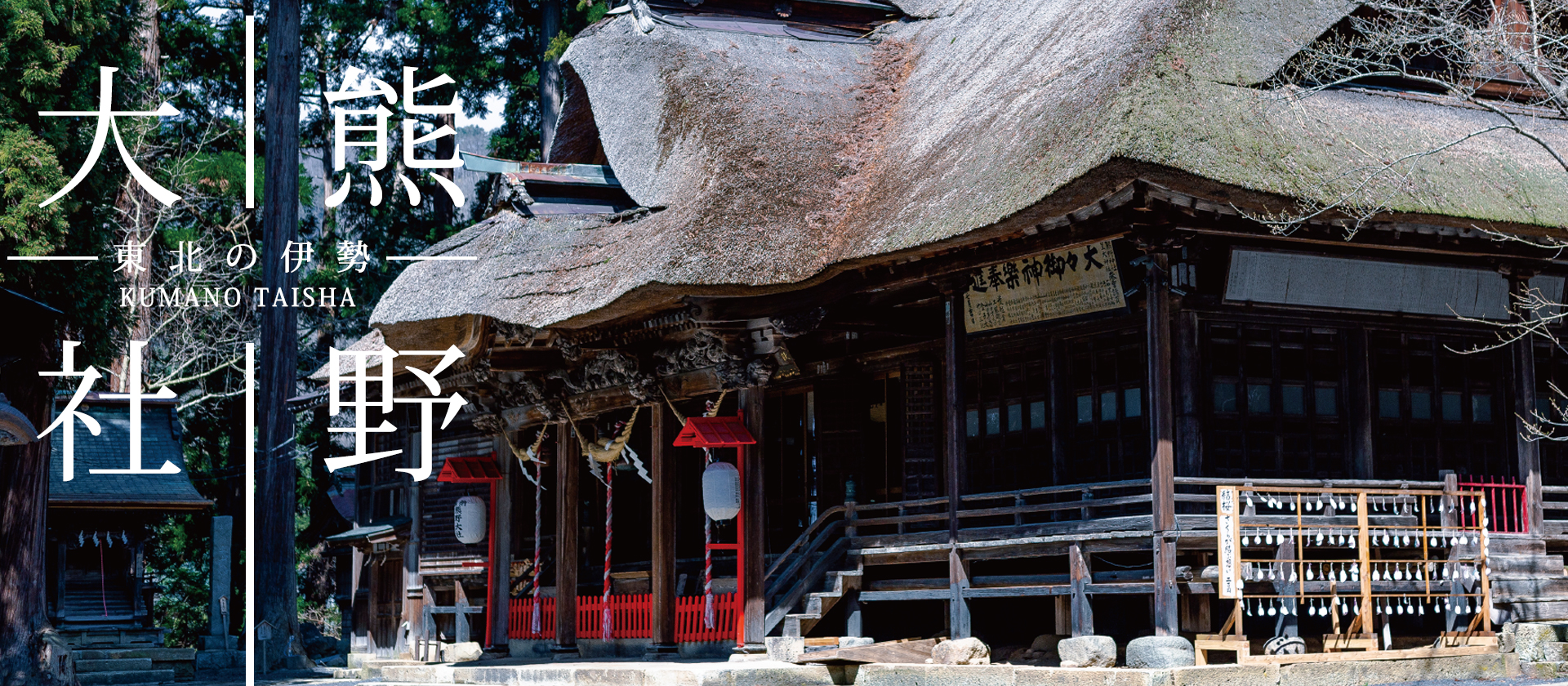 Historic Tohoku, The Base of Kumano Belief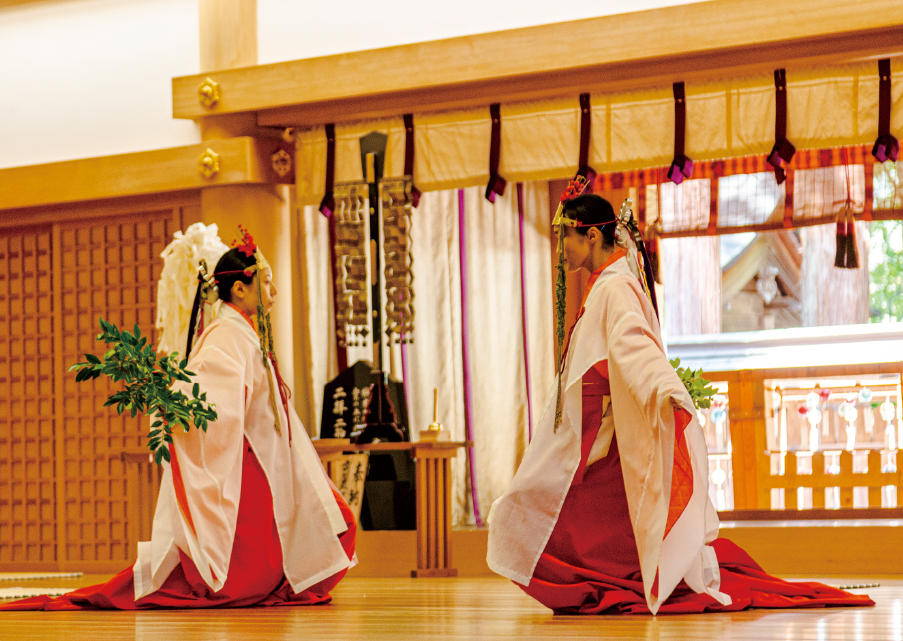 Japan's Leading Three Kumano Shrines, One of the Holy Lands
At the northern-most point of Miyauchi neighborhood of the city of Nan'yo where the vast Okitama basin can be seen lies Kumano Taisha shrine surrounded by scenic beauty. Kumano Sanzan (Kumano Hongu Taisha, Kumano Hayatama Taisha, Kumano Nachi Taisha), Nagano Prefecture's Town of Karuizawa's Kumano Kotai Shrine, and Nan'yo City's Kumano Taisha are called Nihon-san Kumano, Japan's Leading Three Kumano Shrines, and have widely garnered faith as such.
It's written in "Hitoyama KOKON Nikki", a book that has been passed down in Kumano Taisha, restorer and principal supporter of the shrine Naoe Kanetsugu's manabuta munahuda and Date Masamune's munahuda were displayed next to each other. It is understood that influential people of the time were highly revered. *munahuda are wooden plaques nailed up in a shrine that display the construction or restoration date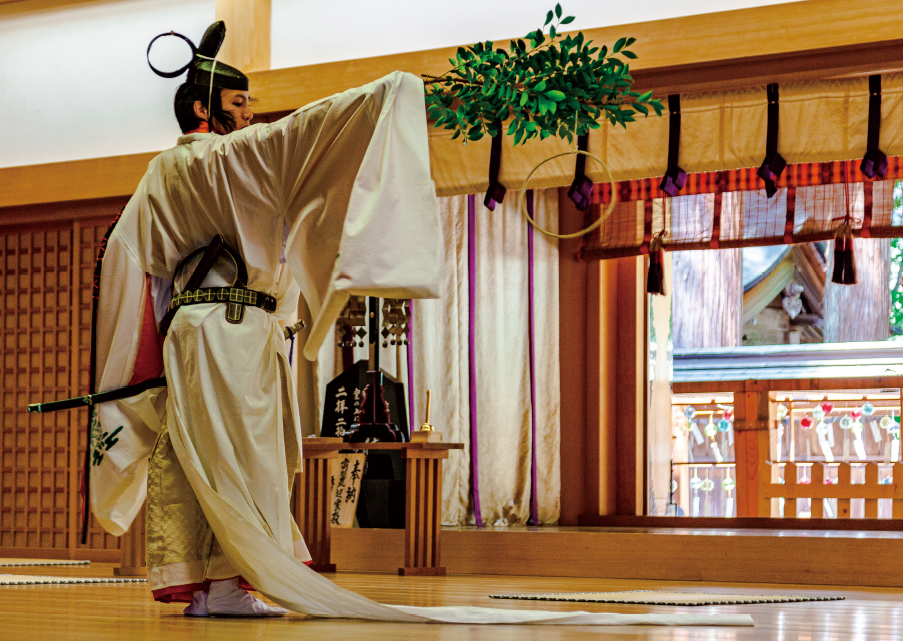 The Highly Sacred Kagura
People continued visiting Kumano Taisha while the faith grew ever larger around Japan. It is said many of the visitors' goals were to see the kagura, daidaikagura, passed down directly from Ise Grand Shrine. This form of kagura is the oldest and most sacred in all of Japan. From the time of the reign of Emperor Seiwa, Yamatomai and Ninchomai, as the kagura was called, was danced in ceremonies held by the royal palace. These dances were carried out at all festivals of the imperial Shinto shrine.
There are currently six types of kagura offered at Kumano Taisha. Four of the six are from Ise Grand Shrine. This started the pilgrimage to Kumano Taisha. The festival that offers daidakagura and the pilgrimage to receive power from the Kumano Taisha kami are the upmost important festivals. They are held from January to March (New Spring Pilgrimage), and October and November (Autumn Pilgrimage).
Inheriting the mythos of the past

Bonded with the Kami
The Kami of Kumano Taisha shrine is the kami for the origins of all life. They rule over all living things, and protect new life born into the world.
There are three rabbits hidden in the carvings on the back of the shrine. If you find all three, it is said your wishes will come true and you will be blessed with good marriage. In Japanese mythology, rabbits are animals that bond the kami together. Once a month on the night of a full moon, Kumano Taisha shrine holds a special festival for marriages called "Tsuki Musubi". A charm called the "tamayura charm" is offered specifically to the visitors of the festival. It is made of woven mizuhiki, and harbors the prayers for a good marriage.
Hometown of the Heart

Aside from the Kami of the main shrine, there are 30 other Kami enshrined in smaller shrines on the grounds. There are also festivals for abundant crop, thriving business, travel safety, and victory. On the first of every month during the Tsukinamisai, visitors pray for state welfare, peace, and prosperity for believers. That year's harvest is offered to the kami for thanks during the fall festival, Niinamesai,
INFORMATION & MAP
Miyauchi Kumano Taisha

〒992-0472 Yamagata Prefecture, Nan'yo City, Miyauchi 3476-1
http://kumano-taisha.or.jp/

[Mountain Top Office]
※Inquiries about the Shrine

TEL:0238-47-7777 
FAX:0238-47-3303
E-mail:mail@kumano-taisha.or.jp

[Assembly Hall Shojoden]
※Inquiries about weddings, sightseeing, etc.

TEL:0238-47-2172 
FAX:0238-47-5566