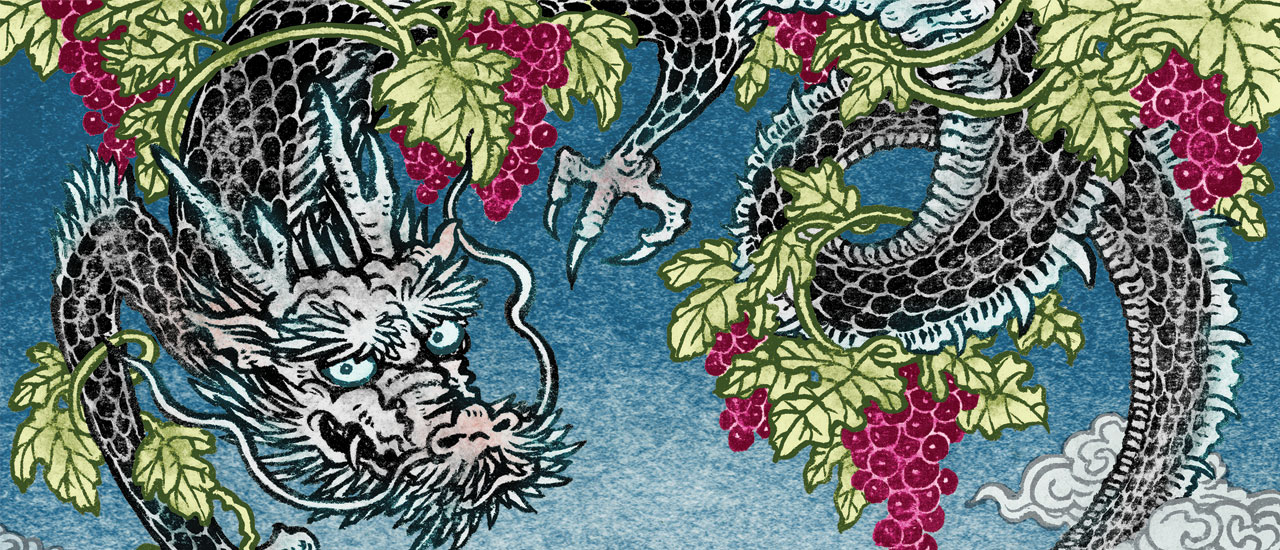 Using methods of old
A winery continues
New challenges
An old winery in Nanyo City, Sakai Winery, and illustrator in New York, Shimizu Yuko, collaborate.
A wine that has the world of animals, vegetation, and people of a vineyard portrayed in a single bottle comes to life.
They aim for a wine where you can smell the land and experience the individual qualities of Sakai Brewery.

Founded in the Meiji Period
Tohoku's First Winery
Nanyo City lies in the northern part of the Okitama valley where there are many grape fields. Jubuichiyama mountain, Nagoyama mountain, and previously deemed one of the most perilious areas of Yonezawa highway, Toriagezaka hill, are covered in grape fields. Growing grapes in Yamagata Prefecture has a long history. Koshu grapes have been grown in Akayu, Nanyo City since the Edo period. It is said the grapes were brought over by a miner from a neighboring mining town called Koshu. There is also another tale of an ascetic bringing the grapes through the Three Mountains of Dewa, but whatever the case be it is without a doubt that Nanyo City's climate and weather is suitable for grapes. Currently there are 6 wineries in the city creating uniquely individual wines.
Sakai Winery was founded 129 years ago in the Akayu area. It was originally ran as a hot spring inn, but in 1887 the 16th head of the Sakai family, Yasou, opened a vineyard at Akayu Toriagezaka. When Mishima Michitsune, the first prefectural ordinance, enforced the fruit tree promotion policy, he planted grapes for wine and started the wine brewing industry in 1892, and the first winery in Tohoku was born. Ippei Sakai, the fifth-generation vintner, has succeeded him as he continues to brew wine even in the face of hardships such as sake being the mainstream culture and war.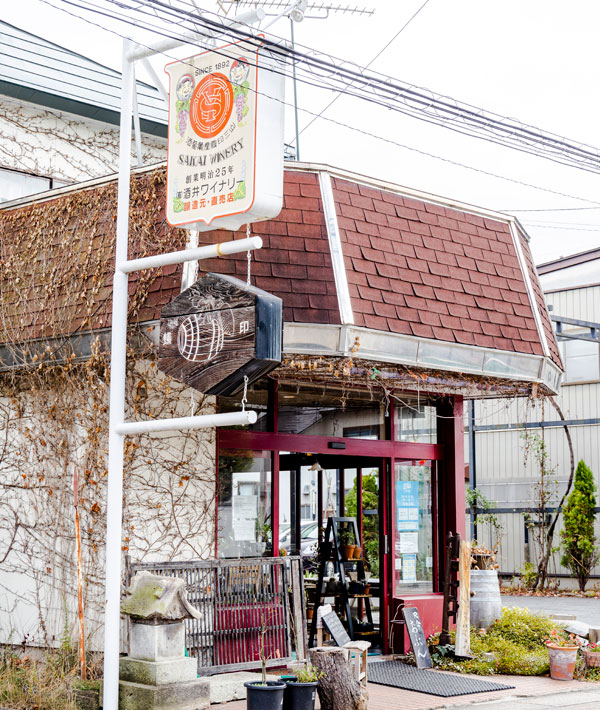 Aiming for Wine Only Capable in Akayu
The fields are carved out of the mountains on steep slopes where there is good sunlight and good draining. It can be said that it is a suitable place for growing good quality grapes due to the temperature difference between day and night, but it cannot be mechanized due to the steep slopes. The aging of the wine producers leave many fields abandoned. Mr. Sakai takes over those fields from the desire to "protect the old production area" and cultivates them as his own field. He says that he is planting various varieties in the field, discovering new characteristics, and trying to find out what the individuality of Akayu is. At Sakai Winery, they continue to use non-filter bottling and traditional methods without herbicides and pesticides. About 10 years ago, they freed sheep to graze and control weeds, and start making fertilizer.
"There is a 'risk of growing without using chemicals,' but I would like to use the power of plants and animals to make a more natural and calmer environment. I think that wine that reflects the individuality of the region can be produced only in an environment where various creatures live freely, so I spend great time and effort trying to reflect that," says Mr. Sakai. We hope that this project will express the uniqueness of Sakai Winery. "It will be a product with a fairly limited number of production. It would be ideal if people who know us could reach a deeper understanding of us through the new label."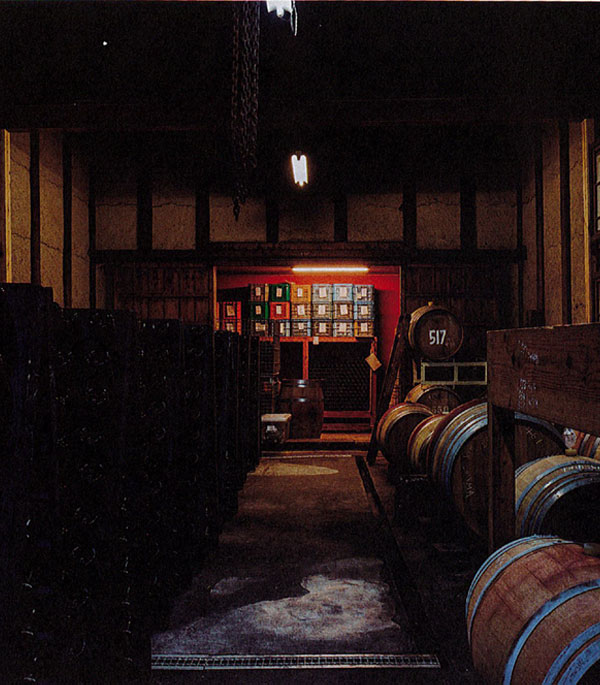 Wine that is born
From the intertwining of life
Illustrator Shimizu Yuko, received Sakai's desire to "create a label that makes you feel more about the fields and regions." She listened carefully to Sakai's ideas about making wine from natural grapes as they grow in nature, and the sustainable agriculture methods of Sakai Winery. From topics about the birds in his "bird label series" that visit his vineyard, to the nuisance wildlife of bears and boars, to four-legged animals such as antelopes and sheep that make up the field. Shimizu responded, "I'm really interested in the story of the grazing sheep. I can imagine the scenery." When she saw the chrysanthemums, the flowers of Nanyo City, Eboshiyama's cherry blossom trees, vineyards, and pictures of Mt. Iide, she admired how beautiful the area is. "I lived in a period when it was cheaper to travel internationally than it was domestically, because of prices in Japan being the most expensive worldwide. My American friends know more about Japan than I do. I'd love to go," she said thinking of Sakai Winery from New York. This project will produce red wine using Muscat Bailey A and Black Queen grapes, which are unique to Japan and are harvested at Mt. Nagoyama. It will be a wine bottled from select high-quality barrels. A new challenge began; how different of a wine can the same old grapes produce?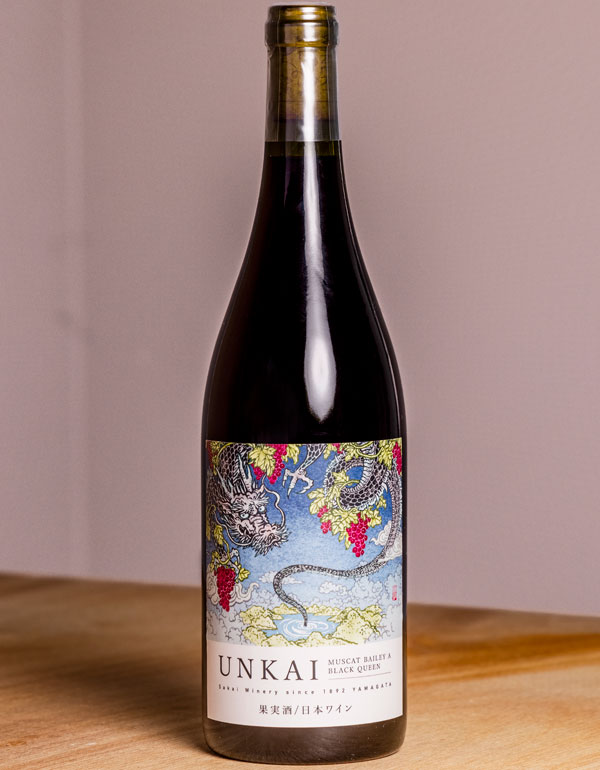 Yuko Shimizu Gallery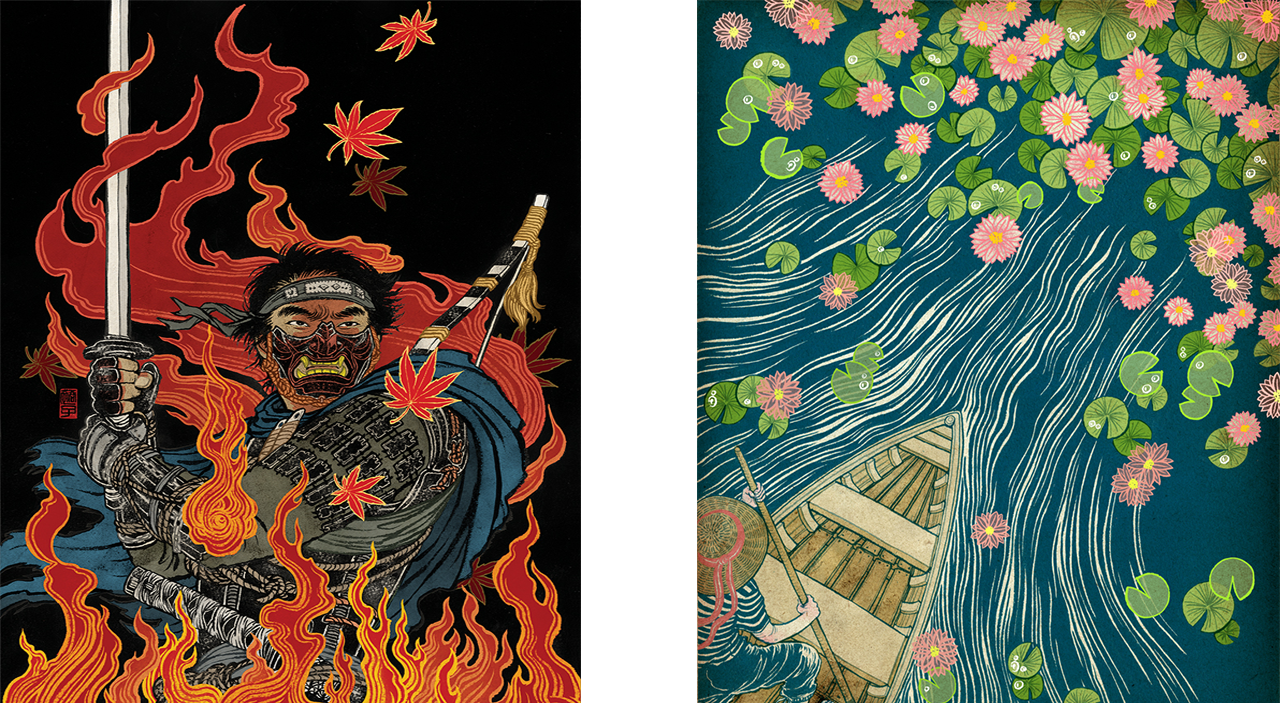 Yuko Shimizu
Born in Tokyo. After graduating from Waseda University, she worked in advertising and marketing for 11 years before moving to New York to study art at School of Visual Arts. Yuko graduated with MFA from SVA's Illustration as Visual Essay Program and has been illustrating and teaching since. She has clients from Apple, Microsoft, New York Times, TIME, DC Comics, among others. Yuko was chosen as one of the "100 Japanese People the World Respects" by Newsweek Japan in 2009.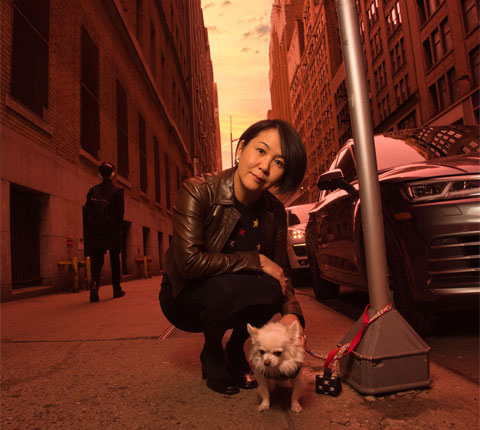 About the OMIKI Project
At the Yamagata Arcadia Tourism Bureau, as part of the Toyo Arcadia Project for developing omiyage (souvenirs) for the Yamagata area, we aim to promote the local area to the world through the uniquely Japanese culture, sake. Local breweries and world acknowledged graphic artists pair together to pray for the success of sake making, and develop original Japanese sake. We promote the "OMIKI Project" by selling omiyage. The project is to sell, develop, and promote "OMIKI" as high-brand "SAKE" to the world.